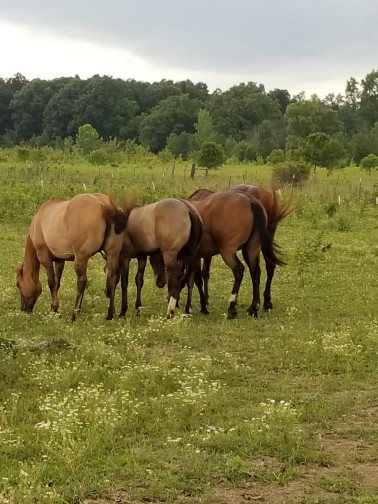 Horses have always been my first love. I got my first when i was just two years old.
Even before I moved in with my husband, i purchased a horse (well two). I cannot imagine life without my loves. Hail is my big red mare. We purchased her when she was 3 years old.
I was so excited to get her. She was a dainty, ladies horse. She might have been 14 hands high, slight build and a bit exciteable. I KNEW no one would be able to ride her except me because they were big men. Perfect. I didn't have to share her! After a year, she began to grow and grow... oh boy did she grow! She is now my tallest at about 16.2. She broadened out and developed a hatred for cattle. My dad tried to buy her off me. He offered two of his horses for just one of mine. That is the best compliment that I have ever received. He said I had good taste in horse flesh. My dad and I didn't always see eye to eye, so when he tried to buy Hail it was as though he was saying how proud he was of me.
When we brought Hail home, we also brought a retired show horse. Weeb was trained English and Western. He was a fantastic horse. If you didn't know how to ride, he would babysit you. If you knew how to ride, he would test your limits. We miss that old man.
Over the years, we have had several horses. I have trouble saying no to a horse in need. That makes for a very large feed bill. Many of the horses came to us with injuries or illness, all of them had a story. Handsome Husband and I have a keen knack for being able to listen to the horse, hear what the animal is saying to us. We were not able to save them all, but we gave them all we could and they were content and peaceful here.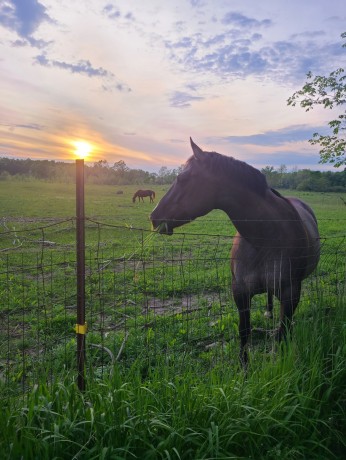 We now have Hail O'Feet, the only one we purchased. As a wedding gift, Mama Ann (my husband's mother), gave us a stallion, Mister Texas Bay. A black bay stallion with AQHA papers. We had visited him before going to get him. He was beaten up by draft horses and not interacted with by humans. He had a non-cycling mare who pushed him around. He was sad, his eyes pleaded with us to take him. When we did pick him up, he jumped into the trailer. He has never been in it since. Our vet said "Would you leave if you were in horse heaven?" I suppose not. My parents gave us a little filly they had picked up at auction as a wedding present. Somewhere there is a most unflattering picture of me as I read the bill of sale written out on a napkin for Cannonball Gem, our red line dun. She had come from the Dakotas and pulled away from her dam way before she should have been. Her growth was stunted a bit and she was terrified of people. My parents bought her in Northern New York and now she is in Ohio.
We have had offspring of Mister and the mares. They have all had wonderful personalities and were beautiful. My last two fillies from Mister and Gem are Gem's Texas Diamond, 2 year old, and Gem's Texas Emerald, yearling. They have wrapped themselves around my heart. Both have the best qualities of their parents. They are both taller than their mother and we the gentle sweetness of their father. I plan on keeping these girls and training them to replace Hail and Gem when they are too old to ride any longer.
Currently, the girls are learning to play hide and seek.