Triangle K Ranch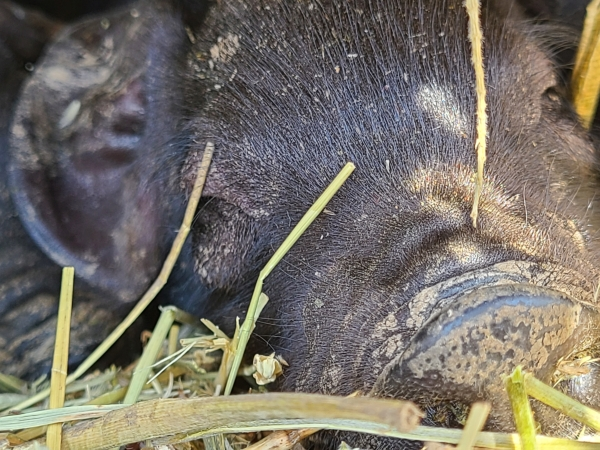 Wow what a year 2021 was! We travelled to Northern New York where I am from and visited my brothers and their families. It was so nice to spend some time with the. I loved the improvements and changes they have all made to my childhood home. My oldest brother gave us a Gehl skid steer that needed some work.
We have worked all summer and fall on the skid steer and are down to the fuel system. I cannot express how proud I am of my Handsome Husband for all the work he has done to the old beast. This will be a great asset to the farm when it is finally completed.
We added a hay field for our animals and are looking forward to this year's harvest. We spent many hours discing and cultivating the field that has not been used in many decades. We will have to reseed portions that did not grow once spring has shown us what is to come. But we have the seed and the know-how.
We have recently sold one of our big boars. Phillip, Purdue University Super-CA was sold to Clarabelle Lane Farm. We hope he will do a great service for them as he has done for us. We still have Ian, The Livestock Conservancy Malcolm, has been doing well with his first litters. We have high hopes for what he will produce in the future. Bismarck, Basel Defender, is solid as ever. I have noticed that his git have beautiful hams! Our Charlotte, Leaping Waters Charlotte, is 10 years old now and still producing litters of 9 - 12. I cannot complain! She did bite me for the first time this winter for making her piglet squeal. After giving us a great ten years of litters, we can forgive her for one indiscretion. Our other girls are The Livestock Conservancy Prudence (Purdy and Peanut), Triangle K Warbler (Susan). Triangle K Charlotte (Regina), Purdue University Charlotte (Cecelia), Bennett Prudence (Penelope), HM Farm Daisy (Maisie) that we got from our dear friends at The Ole Yellow Barn Farm, and HM Matilda (Mad Maddy).

We are expecting late winter litters beginning at the end of January. We will have some litters from Phillip even though he has gone on to warmer pastures. Our cattle will be giving birth beginning March 2, 2022. Our bull is a Dexter, Otis, and has never missed a breeding. He is a lovable fellow and we couldn't imagine life without him. Our girls are Millie (Simmental), Mavis (Normande/Watusi), Ana B (Mavis' daughter Normande/Watusi/Simmental), Ebony (Lowline/Dexter), Candi Cane (Dexter) and Dolly Madison (Candi's daughter Dexter). 2021 gave us 3 bull calves and two heifers. Dolly's daughter, Clover Bud, is for sale and is a full Dexter (unregistered) and Liberty Belle who is a Simmental/Dexter cross and is a beautiful cream color with white accents. Liberty is also for sale.
No new horses this year and unfortunately my brother lost Whiskey (Jasper) who we gave him in 2020. We are so sorry for his loss and the loss of Gin's companion. Thankfully, my brother - Joe - purchased a little filly who will be Gin's companion. Mister is still doing business. He is now 26 years old and looks fantastic for his age. He is still as sweet as ever. I am amazed at Diamond and Emerald. They are gorgeous animals and bigger than Hail!!
I cannot wait to see what this year has in store for us.